Sporting History
Our mission is to bring back elegant, tailored whites to cricket.
Clothing that feels as good as it looks, and tells the story of great players from the past.
Drawing on our archive going back to the 1920s we're using the best of the old, and the best of the new to make wearable heritage pieces for today's sportsman.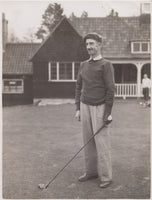 Paddy's Story
In 1926 Nicholas "Paddy" Padwick set up his shop N.E.Blake & Co. in Minster Street, Reading promising to offer Sporting Goods of the highest quality.
"Paddy" was my great grandfather, a sporting enthusiast who built his sportswear business after returning from the First World War. A passionate sportsman himself, who excelled in golf, cricket, hockey, boxing and cross country running. His first foray into the sports business was selling tennis nets, door to door. He later returned to sell those same people tennis racquets. From these small beginnings N.E.Blake & Co. was born, and became the hub for sportswear in Berkshire. The original shop was bombed in the Blitz, and survived, Paddy returning to service with the Royal Signals helping co-ordinate the D-Day landings.
The business was eventually passed on to his daughter Anne, and when she passed away in 2017 it was time for a new chapter for N.E.Blake & Co.
Paddy was a great believer in clubs, associations and teamwork. The ethos of bringing people together through sport is what we're passionate about. 
Thanks for being part of our club.
Henry Lloyd-Hughes